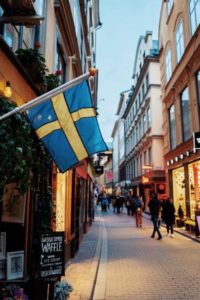 Sweden is a beautiful country with lots of culture and friendly people.
Stockholm is the capital of Sweden and are a very old city where the earliest mentioning is from 1252.
Stone-paved streets in the old parts of the town with beautiful architecture makes you want to go and have a long stay in Stockholm that enables you to explore every corner of this marvelous city.
When you travel to Stockholm it isn't what you would expect from a capital with large skyscrapers and lots of traffic, it is the opposite of that and instead old colorful buildings from 1850's, shaded parks and lots of interesting display-windows. The traffic is reduced to the minimum and most of the people is walking or riding a bike.
Spending a holiday Stockholm can be filled to the brim with activities and stuff to do or you could take a ride in the archipelago of Stockholm called "Stockholm's Skärgård" just for enjoying the view. There are lots of museums, restaurants and spa's that deserve a visit, there are several places in the Micheline guide that you don't want to miss.
Wandering around the many neighborhoods and eating at market halls between hopping on ferries and explore islands is a fantastic experience when you have no pressure from time and chosen to rent apartment Stockholm. You do not want to miss out the famous Vasa-ship that sank before the maiden voyage when the captain ordered a stability test, it is amazingly well preserved and is all made of wood.
If you choose to stay a longer while then time to visit other parts of Sweden is a must, A trip to the northern parts called Lapland where you can eat with food creators and foragers or hiking a bit. Going southwest to Gothenburg you have a lots of seafood and mussel expeditions to explore, there is also a large themed amusement park with a green bunny.